THE BIG QUESTION . . .
Where do you stand with God?
There are many ways people answer this question.
Some people say there is no God.
But you look at the amazing creation all around you, and in your heart, you know He exists.
Some people believe that being a good person is enough.
But that is confusing to you. How good do we have to be? Who decides what that is? You know that makes no sense.
Some people believe religion is the way to know God.
But you have seen too many hypocrites in religion. Far too many religious leaders have done bad things. It is obvious that religion alone cannot make us right with God.
So, what is the answer?
"For God so loved the world that he gave his one and only Son, that whoever believes in him shall not
perish but have eternal life.
(John 3:16).
And this is the testimony: God has given us eternal life, and this life is in his Son. 12He who has the Son has life; he who does not have the Son of God does not have life
(1John 5:11, 12).
The answer hasalways been the same. God loves us so much that He made the perfect way for us to be right with Him. He sent His Son, Jesus Christ, to make things right. If we believe in Jesus, and trust Him alone, then we are saved!
HERE IS OUR PROBLEM!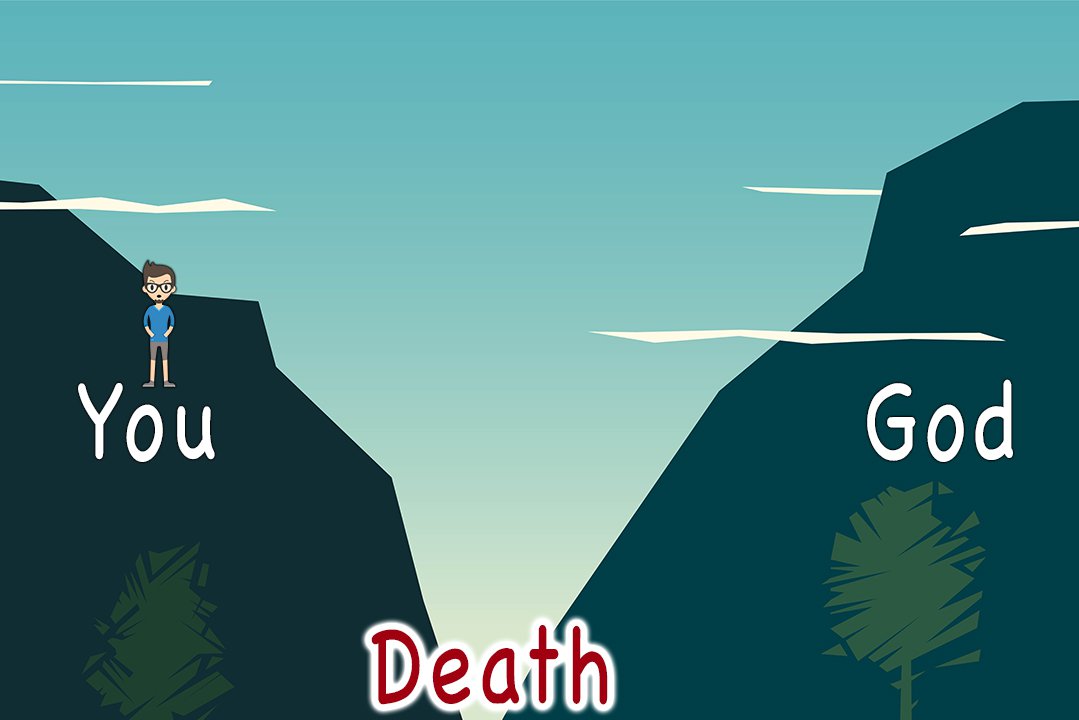 SEPARATED FROM GOD
But your iniquities have separated you from your God; your sins have hidden his face from you, so that he will not hear (Isaiah 59:2).
For all have sinned and fall short of the glory of God, (Romans 3:23).
This is the part that makes people angry. But, think about it for a second. If someone were to ask you whether you have sinned … how would you answer? You would say, "of course I have sinned, nobody is perfect." That is true except for one thing. God is perfectly holy. It is not in the nature of God to allow any sin in His presence. As soon as He does that, He ceases to be a holy God . . . and that will never happen! The Bible is clear. We have all sinned and because of that, we are destined to live forever without Him. It is a reality that none of us should want. Do you?
OUR ACTIONS ALONE ARE USELESS
For it is by grace you have been saved, through faith—and this not from yourselves, it is the gift of God— 9not by works, so that no one can boast (Ephesians 2:8, 9).
He saved us, not because of righteous things we had done, but because of his mercy. He saved us through the washing of rebirth and renewal by the Holy Spirit, (Titus 3:5).
One of the biggest issues for us to face is the fact that there is nothing we can do to save ourselves from ourselves. People have tried religious ceremony, penance, charity and many other ways to make things right. But, they all fail. None of them pay the price of our sin. We are simply not able to make things right with God on our own.
THE REALITY OF OUR CONDITION
As for you, you were dead in your transgressions and sins, 2in which you used to live when you followed the ways of this world and of the ruler of the kingdom of the air, the spirit who is now at work in those who are disobedient (Ephesians 2:1-2).
Since we are sinners and God is holy, we are destined for death. Not a physical death, but a spiritual one. Since our works do nothing, we know that we will fall short of His glory. It is a desperate situation, but one that has a solution!
GOD'S GREAT LOVE BRINGS GOD'S GREAT SOLUTION!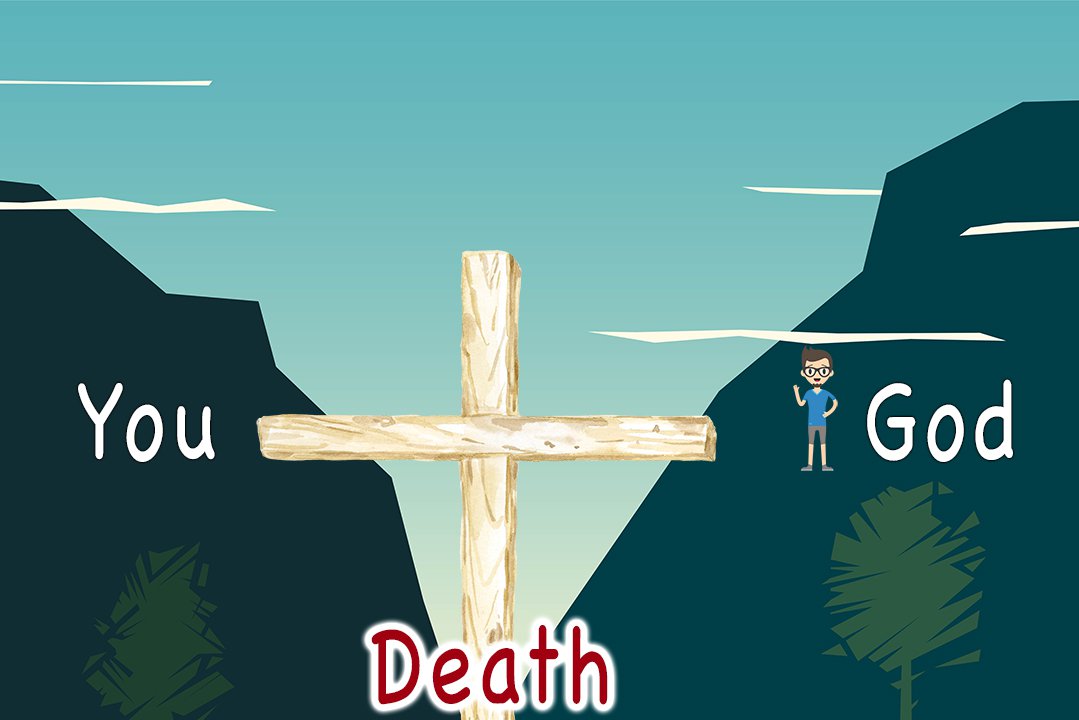 BECOME RIGHT WITH GOD!
But God demonstrates his own love for us in this: While we were still sinners, Christ died for us (Romans 5:8).
God made him who had no sin to be sin for us, so that in him we might become the righteousness of God (2 Corinthians 5:21).
For Christ died for sins once for all, the righteous for the unrighteous, to bring you to God. He was put to death in the body but made alive by the Spirit (1 Peter 3:18).
Some people think that the Christian faith is too narrow. But that is a good thing. In fact, that is the only way that can work because we can do nothing of ourselves. God loves us so much that He does not want us to die in our sins. Therefore, He gave us His Son. He provided the perfect sacrifice to pay the debt we can never pay. He gave us His Son, Jesus Christ!
HOW DO WE ACCEPT GOD'S GREAT GIFT?
Yet to all who received him, to those who believed in his name, he gave the right to become children of God— (John 1:12).
For it is with your heart that you believe and are justified, and it is with your mouth that you confess and are saved. 11As the Scripture says, "Anyone who trusts in him will never be put to shame" (Romans 10:10, 11).
Please read this carefully. God's gift of His Son is free and there is nothing we can do or did do to earn it. Still, we must put our trust in His name. We must personally believe in Jesus Christ. There is no magical formula or prayer. There is no rite or ceremony that can save us. We simply, with all of our heart, believe in Jesus. We must confess that we are sinners, that we can't save ourselves and that we believe in the death, resurrection and perfect sacrifice of Jesus Christ.
YOUR PERSONAL PRAYER
If you have read through this and want to receive Jesus Christ as your personal Lord and Savior, please pray the prayer below. Remember, there is nothing magical about the prayer – you must mean what you pray with all of your heart. Otherwise, they are just words.
"Lord Jesus, I believe I am a sinner. I believe that you died on the cross and were raised three days later. Thank You for dying on the cross for my sins. I receive You as my Savior and Lord. Thank You for forgiving my sins and giving me eternal life. Please help me to follow you with my whole life. Make me the kind of person You
want me to be."
WHAT DO YOU DO NOW?
If you have prayed that prayer and became a Christian, welcome to the family of God! Please email us to tell us the good news and ask any further questions you now have. Also, if
you have not yet believed in Jesus, but have questions, email us. We can help you! The next step is to become a part of a local church and learn how to better follow Jesus as Lord of
your life. If you live in the Blackstone Valley, please join us in Worship this Sunday morning. If you are too far away, let us know and we will help you find a good Christ-centered church near your home. God bless you as you begin your new life with the Lord Jesus Christ!
* All Scripture quotations taken from the New International Version